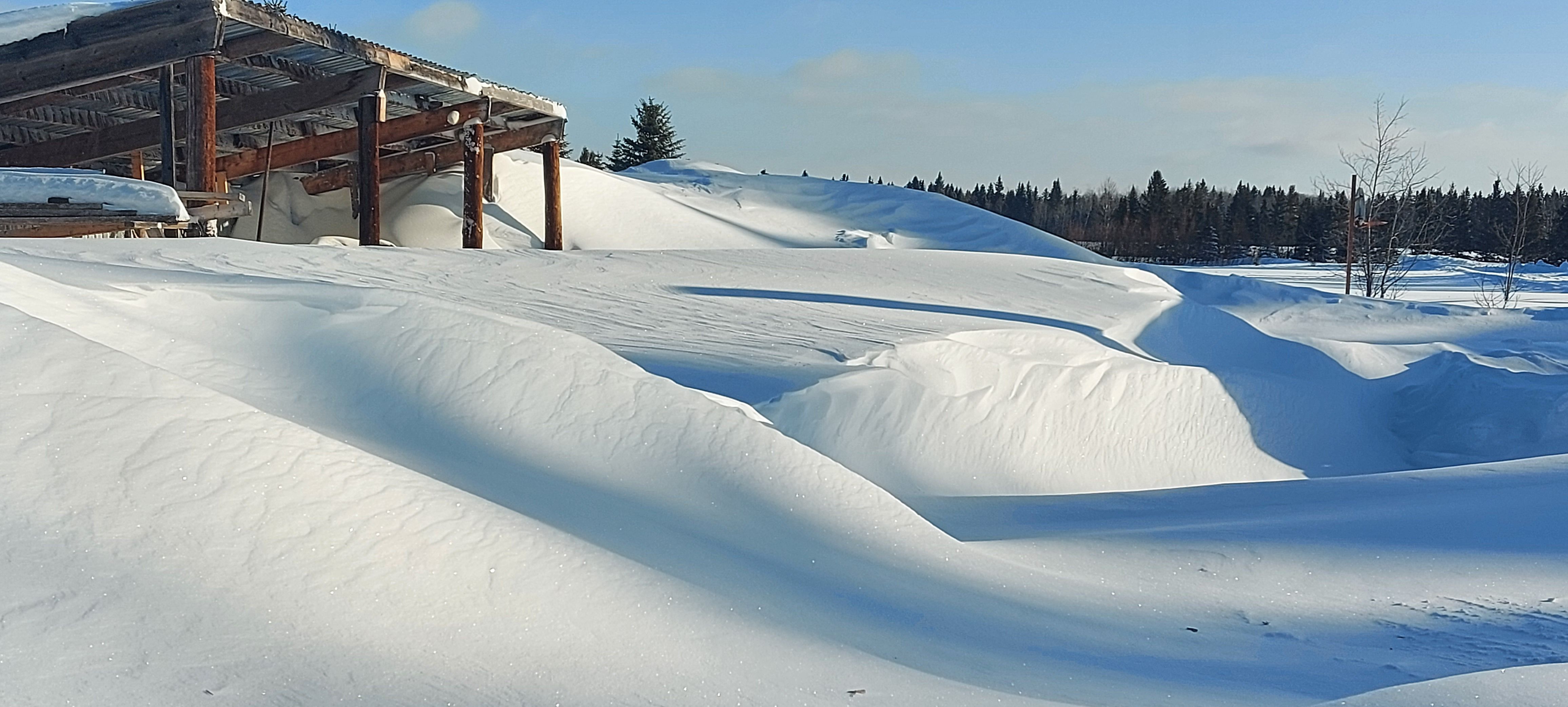 Our turnaround is a little drifted in this morning!!
We have had quite the winter here in Saskatchewan.  With a month long stretch of -30 to -40 weather in December and January, plus more snow in December than we've had in total the last few years, it's been interesting!  We're digging out from another blizzard today.  But very grateful for a warm house and for tractor and snowplow operators! 
So...it hasn't been the greatest winter to get out and enjoy, but I've been plenty busy in the shop and working on business development.    I'm so thankful for the expanding opportunities to sell my scrollsaw wood art, and it's very rewarding to see the response to it, and the joy it seems to bring.  Creating is very much what I was made to do...and I truly enjoy being able to express that in many different forms.  It still amazes me how God can take and use every part of our lives in ways we never expect.  He doesn't waste anything!  I never ever could have imagined that after many years, my little hobby of scrollsawing, mainly for gifts - would turn into a home business where I sell my products far & wide.  This may just be for a season, and I certainly don't know whether it will continue long-term, but I am grateful for it - being able to stay productive, create beauty, connect with people in many places, and help bring in a little income.
As I work on each project, I pray that God will use it to touch someone's heart.  I am being stretched in new ways...learning new skills and being amazed at how God combines our gifts, abilities, His leading and calling, and our willingness, to accomplish what He wants.   
I am also so grateful for the songs He continues to pour into my heart as I spend time simply praising Him or seeking Him in prayer.  The new EP release is getting closer, and I'm so thrilled with the way it's sounding!  I can't wait to share it with everyone!  I'm pretty sure I'll be calling it "Offerings", with its mix of old and new favourites.  Because the production part of this project is being handled by someone much more qualified than I, it frees me up to start recording the next full CD, which I'm hoping to start doing this week.  This one will focus on the name of Jesus.  I'd sure appreciate any prayers for God's blessing and help with this!   
So...switching gears a little this next while.  I'll still be in the shop some, keeping up with orders, but my focus will be on getting these songs ready to be shared.  
Snowbound or not...there is plenty to do...and I am so thankful for the opportunity to let inspiration and creativity flow.  Just like God is at work in all of us - in every season - in every struggle - in every part of our journey here. 
Nothing stops His plans or purposes.  Ever I am grateful for His sovereign ways, His unfailing love and His faithfulness.  Every day is a new opportunity to serve Him with all we are, to be who He called us to be and use every gift for His glory.