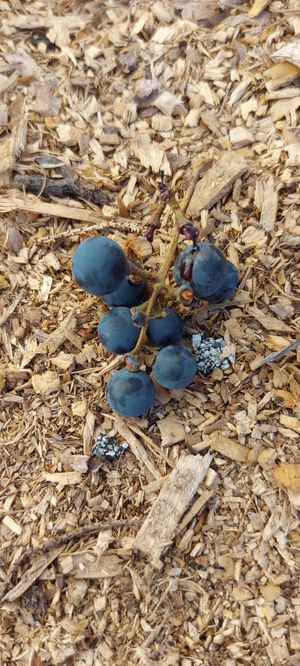 The south end of our house is sheltered from the strongest winds and provides a sunny spot to grow vines.  I planted some kiwis this spring in the hopes of harvesting fruit from them in a couple years.  We'll see if that happens!  I also have some grapevines which have been growing for a few seasons.  They produced prolific leaves on intertwining vines that crawled up the trellis and cascaded across the basement window, almost obscuring the view. 
With the very hot summer we had, regular watering, and the vigorous growth, I anticipated an abundant harvest.  Disappointingly, that was not the case.  I checked several times throughout the summer, and made the hopeful assumption that the tiny grape clusters were simply hiding beneath the greenery.  I was wrong!  With the onset of cooler weather and ensuing frost, I searched through the vines and to my dismay, found only a single small cluster.  Perhaps I need to do a little more research on feeding the plants for optimum production as well as proper pruning, but in any case, it left me quite disheartened.  All that growth, but no fruit. 
It reminded me of what Jesus taught in John 15, where He gave the analogy of Him being the true vine and us being the branches.  He expects fruit, and prunes off any branches that are not producing.  It's a sobering thought.  He states in verse 9 that those who remain in Him WILL produce much fruit.  It's not a probability, it's a sure thing.  But the opposite is true too, as it describes in verse 6.  I don't want to be thrown away and wither!!  I want to remain in Christ – abide in Him – and demonstrate that I am His true disciple, bringing glory to the Father (vs 8).  
Jesus told another parable in Matthew 7:17-20, about the tree that doesn't produce good fruit being chopped down and thrown into the fire. Serious business.  Verse 20 says that you can identify a tree by its fruit, whether good or bad, and likewise, we will be known as servants of Christ by the fruit we bear. 
So, my pitiful grape harvest gave me a vivid picture of my need to be rooted in Christ.  If I am to be a producer of good fruit, I need to be nourished by the water of the Word, warmed by the sun of His love, and remain wholly attached to Him, so that my life can produce the fruit He expects and requires.  I long to bring joy to my Father – the husbandman or gardener.  When He checks on my branches, I want a bounty of good fruit in evidence. 
My unproductive grapevine also served as a reminder that appearances can be deceiving!  We may appear to be doing all the right things and look the part, but, God sees our hearts, our motives and our true nature.  He knows if we are truly abiding or not, and He will do what is necessary to prune away whatever is hindering our growth and fruit-bearing ability.  
He WILL have a harvest.  It's up to me to remain where He plants me, flourish by His life flowing through me, and bear the fruit that He is waiting for.