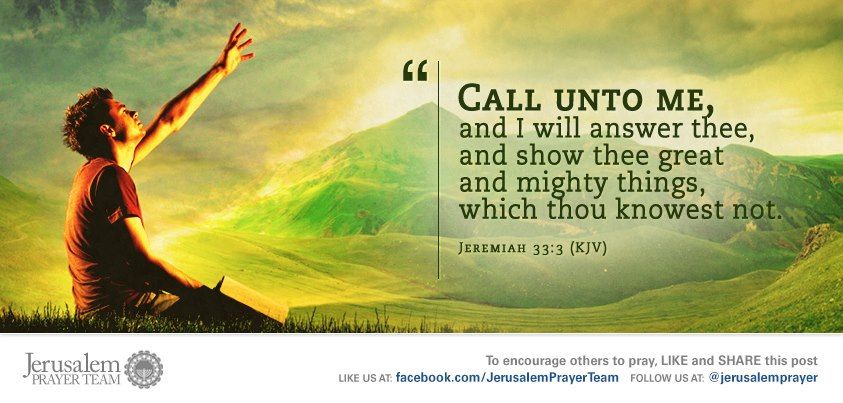 Call to Me, and I will answer you, and show you great and mighty things, which you do not know.  Jeremiah 33:3 (NKJV)
Then you will call upon Me and go and pray to Me, and I will listen to you.  And you will seek Me and find Me, when you search for Me with all your heart.  Jeremiah 29:12,13 (NKJV)
Last week I had some amazing and deep times of prayer.  I had a prayer burden for requests both known and unknown.  That's one of the best parts of meeting with God – He knows our deepest needs and concerns, and hears the cry of our heart, even before we ask.  But He WANTS us to ask!  He wants us to  seek Him, wait on Him, abide in His presence and draw life, strength, and hope from simply being near Him.  But even when we don't know how to express what's weighing upon us, our humbleness in coming before the throne of Almighty God, and placing ourselves at His feet, touches His heart.  He longs for that precious communion between us.  He is eagerly waiting to respond to our sincere, and even desperate pleas.
I was SO blessed by the answers to specific prayers that came.  These were things I had prayed about many times before, but in that time of crying out to Him, earnestly seeking Him, He poured out abundant answers…in very specific ways.  It would seem that the "prayer bowls of heaven" were tipped and the blessings rained down! I couldn't help but be amazed at the way He heard my cry, and, in doing so, strengthened and encouraged my faith.
I just want to encourage YOU to keep spending time with the One who is able to do "exceedingly abundantly above all that we ask or think." (Ephesians 3:20)
Come to Him with every concern, every burden, every question, every need, and especially with a heart that longs to know Him more.  To become closer to the God who loves and cares for you.  To be filled up from the living well of Salvation.  To be assured of His faithfulness and goodness. 
He most certainly hears every simple prayer.  But He also desires that we offer up our time and earnest effort in seeking Him.  We are told repeatedly in the Word to "wait on the Lord".  Waiting = time.  Waiting = hungering for God.  Waiting = consistently offering  up ourselves to Him. 
As the verse near the beginning says, we will find Him when we search for Him WITH ALL OUR HEART.  It is an eternal investment that has guaranteed returns.  It is worth every moment we surrender.  God eagerly waits to extend His sovereign hand, and to "show himself strong in the behalf of them whose heart is perfect toward Him." (2 Chron. 16:9)
So, be encouraged.  Be faithful.  Be persistent.  And put your trust and confidence in the God who hears and answers.